How to Convert Powerpoint Slides to Google Slides and Embed in Blackboard
This process will help users with multiple issues they may run into with using PowerPoints in Blackboard.
If you upload a lot of PowerPoint files that are relatively large, you may fill up your course quota very quickly.

By embedding the Google Slides, you will not increase your quota at all.

All users have access to the latest version of Microsoft PowerPoint for free.

Many users do not have the right hardware to run it so they are still operating with an older version of Microsoft and may not view your files correctly or at all if downloaded.

By allowing PowerPoint downloads, you do not know where this information may end up, this process keeps the presentation on Blackboard
To get started, sign in to your Syracuse Google Account (netid@g.syr.edu) and select the apps button (the 9 dots in the upper right-hand corner) then select Drive: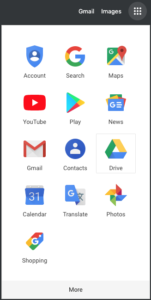 In Google Drive, select New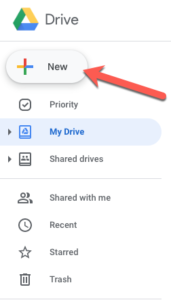 Under New, Select File Upload
This will open up your file browser and you can select your PowerPoint presentation.

If you have a lot of files, you can select Recent on the left-hand side of the Drive and you will see the most recent file opened or uploaded at the top.

Once you have your PowerPoint presentation in your drive, you can preview it by left-clicking on it or right-click then select open.
When the preview screen is open, you can select Open With, and then select Google Slides from the drop-down.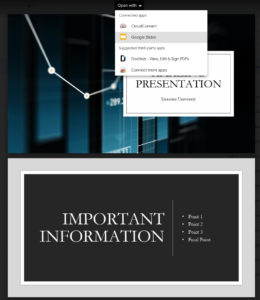 This will convert the PowerPoint presentation into a Google Slides deck.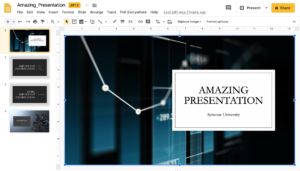 In Google Slides, you will have a majority of the same functions as a PowerPoint presentation located under Insert. 

To get the Embed Code, select File then scroll down the menu and select Publish to the web.

In the Publish to the web menu, select Embed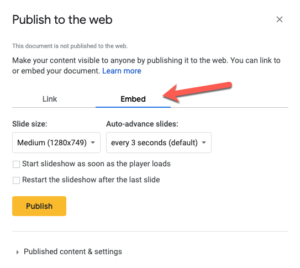 This will give you the Embed code to copy (use Command-C for Mac and Control-C for Windows)

Now that you have the Embed code, log into your Blackboard site and open your class.
Find the area where you would like to put your Slides deck and select Build Content then select Item.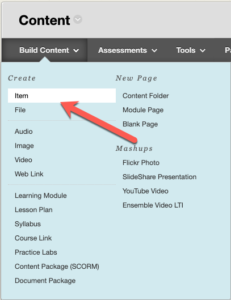 In the text editor, select the HTML button and then paste your code into the HTML Editor screen and select Submit.

After submitting, the Item screen will show a preview of the size of the presentation.

If it is too large, select the box in the editor and resize by dragging the corner pieces in.

When it is the correct size, select submit and your slide deck will appear and be viewable for students to progress through.