YouTube Account
Through Syracuse University's Google account, students and faculty have access to Google Drive and all of the apps Google offers through their educational support. Along with Google Drive, faculty and students also have access to their own YouTube account. This tutorial will show you how to access your channel, upload videos, and share.
Sign-In
Go to YouTube.com and select the sign-in in the lower left corner of the menu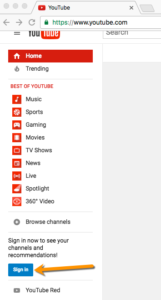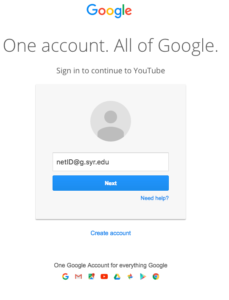 At the SU sign-in, just enter your netID and password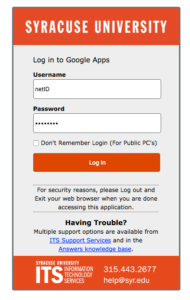 Uploading Videos
Once you are signed into YouTube, everything is identical to using YouTube as a personal user. To Upload your videos, go to the Upload button on the upper right hand side of the screen.

In the middle of the screen you will see the Upload options to set your video to Public, Unlisted, or Private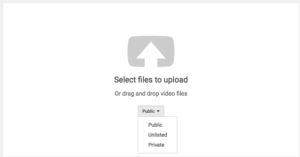 When you select your video file or drag it into the main box, it will begin uploading.
In the Upload screen you will have the ability to name your video file, give a description, change the viewer capabilities and add Tags along with other options.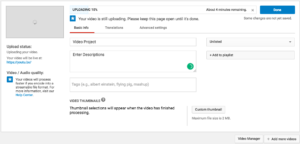 Sharing Videos
When the video is finished uploading, you will be able to share by using Share (link), Embed (code), or Email.



To Embed a video into Syracuse's Blackboard site, find the text editor for either an Item (Professor) or Assignment (Student) and select the HTML button in the lower right side.

A new Tab will open where the HTML Code can be pasted on.

After you paste the code, select Update and your video will be blocked off in your Text Editor.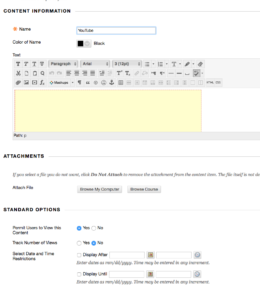 Select Submit and your video will now be embedded into your Blackboard site.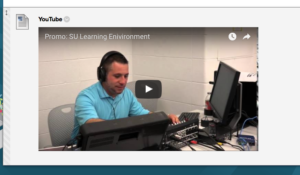 If you have any questions or need additional support, feel free to email ols@syr.edu and mention YouTube Account in your subject header.