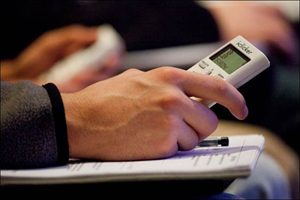 Student response systems, or clickers, give instructors and students immediate feedback. A response device, a receiver, and software are used to capture instant data from your students. The system is portable and easy to integrate into any classroom.
Clickers are small, hand-held devices that allow students to answer questions. Students are also able to use their computers, phones, and web-enabled devices as response devices, using ResponseWare.
Student Response Systems allow you to:
Gauge student understanding
Break up the lecture, allowing students the opportunity to refocus
Stress critical concepts or ideas
Build interaction into your course
Monitor attendance
Syracuse University supports the TurningPoint student response system. TurningPoint offers the ability to import and export grades to and from Blackboard. This includes importing Blackboard student rosters directly to your student response system and exporting grades to Blackboard. Online Learning Services works closely with faculty and students to implement the technology into the classroom.
Find out more about how to incorporate student response systems into your classroom. Please contact us if you have any questions or if you would like to set up a consultation.